So, you're looking to take the digital plunge in 2023, but you aren't quite sure what it will take to launch a digital fitness experience? It's easy to migrate your fitness business to a hybrid model with this handy checklist.
What is a Digital Fitness Experience? Digital fitness refers to digital devices, software, and applications that are used to provide health and fitness content and classes. The digital fitness experience can be viewed via fitness apps or online using digital or mobile devices, or in the fitness studio on large screens, or you computer for on-demand fitness.
In the past, members only had a choice of scheduled live fitness classes during peak hours. Now, a hybrid model transforms fitness by allowing members to access virtual fitness classes and digital fitness content in addition to your live classes. They can experience fitness when and where they want it. You don't have to wait for a class, you can work out or learn any time and any where. Download the checklist here.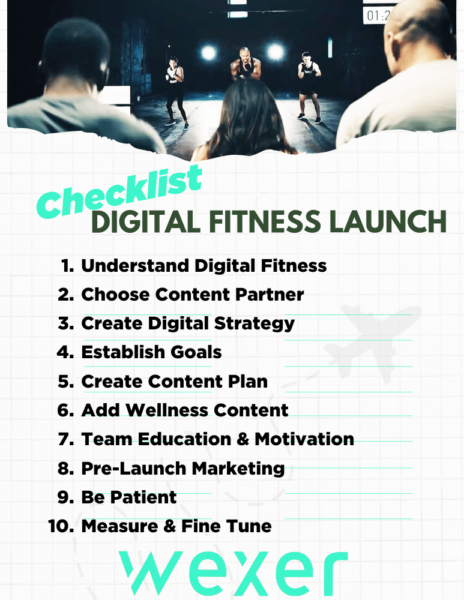 Checklist To Launch A Digital Fitness Experience
1. Start With A Clear Understanding Of Digital Fitness
The first step is to understand what hybrid means, because it isn't about creating a digital add-on. It's about embracing digital and in-person fitness equally. You can create a seamless series of touchpoints for every customer to consume your product in a way that suits them on any given day. It's even OK to still see your in-person experience as the pinnacle, but digital must be viewed as a critical business unit that receives the same level of attention as your in-person classes and physical space.
2. Choose Your Fitness Content Partner Wisely
You'll need to choose a digital content partner that offers relevant and reliable technology, fitness and wellness content that suits your business model, an option to monetise should you wish, scope to own and personalise the experience, and an option to scale and maximise digital's lack of geographical boundaries. You should also make sure your partner will be with you every step of the way, taking the headache out of getting things up and running and providing ongoing support and expertise. 
3. Create A Digital Strategy 
Before you act, ensure you have a strong digital strategy and detail the metrics you will use to measure your success. With digital content, it is easy to view your measures as you can see how many members used the app or viewed online classes and content. Then keep checking your progress against your goals and evolve your actions as needed. Acknowledge and embrace the change that's happening, recognise your strengths and weaknesses, and work with your partner to develop and execute a digital strategy that keeps you true to your brand. 
4. Establish Your Sales, Revenue And Retention Goals
Do you need your digital offering to directly make a profit, or is it more about retaining members as a way to drive broader club revenues? Is it a marketing asset – a way to get new prospects involved with your brand? Should it be integrated into your membership tiers or have a separate pricing structure: an add-on to membership? Will you sell a standalone digital membership with no physical club access included at all? Note, there's no right overall answer – just a right answer for your desired outcomes.
5. Create A Digital Content Plan
In a hybrid world, members will want to dive straight in to a familiar experience wherever they are, meaning you must deliver exactly the same user experience across all digital and physical touchpoints. What will that mean for your business. Crucially, what unique selling position will you offer? Will it involve you filming your own content? This is a big decision and we're here to advise on every angle for your business. 
6. Add Wellness Content To Your Offering
With the boom in wellness, there's an opportunity for your business to become a hub that joins the dots between fitness and wellness with a large library of expertise and programming, both physically and digitally. It can be a collaborative venture. Where you have in-house expertise, your own experts could create relevant content. But where you don't have in-house expertise – sleep, perhaps, meditation, or stress reduction – bring in the Wexer content from expert partners, to help you deliver wellness experiences in a way that reflects positively on your brand.
7. Educate and Motivate Your Team
Gather your talent, identify their skillsets and clearly assign who does what; to make hybrid a success, it needs to be a team effort. Ensure your whole team can talk about what you're doing with genuine understanding and passion. And show them how they can bring value to digital as well as physical themselves – including, if appropriate, encouraging and incentivising your superstars to contribute content digitally as well as in-person.
8. Create Marketing For a Pre-Launch Buzz
Make a big deal of your upcoming launch. Be ready to 'sell' it as a brand new experience. Get your entire team briefed and enthusiastically ready to run sample sessions and answer member questions. With the extensive member data most fitness clubs have in their club management systems, it's easy to know who to target with which element of the offering, and what the different benefits are for different groups. Get creative in your prospect marketing, too, sharing content teasers, creating hashtags and linking them to competitions, even hosting workouts on third-party platforms to win new fans and harness the power of peer recommendation.
9. Be Patient
Getting digital up and running while turning it into a success story isn't as hard as launching a start-up. Success won't happen overnight, so be patient, be consistent, and keep plugging away. You are, effectively, creating a whole new business opportunity. Set realistic expectations and a realistic timeframe to achieve them.  
10. Measure & Keep Fine-Tuning
The more you can take what each person wants and embed it in their day-to-day life, the more relevant and meaningful it becomes to them, the more they will come back. So forget gut instinct. Forget what your experience might tell you. The joy of digital is that it hands you clear, usable data on what your customers are actually doing. No more guess work. Use this data to continually review your strategy and refine your digital offering: what's being consumed, when, how, for how long? With digital, you can see very clearly what's working… allowing you to do more of it.
Get in touch now to discuss how we can help your business go digital and get started on your checklist: info@wexer.com