"The way people are consuming virtual and on-demand fitness is evolving and maturing," says Morten Andersen, Wexer's global head of content. We share what users really want with our new digital fitness insights.
In a change to our usual blog format, we put Morten in the hotseat! Here, he talks to fitness journalist, Kate Cracknell, about data and usage trends for 2022, and what it means for those looking to curate and share the perfect content offering with their customers.
"The way people are consuming virtual and on-demand fitness and wellness is evolving and maturing"

Morten Andersen, Global Head Of Content for Wexer
Morten, can you tell us a bit about yourself?
I'm Global Head of Content for digital fitness expert Wexer, which means I'm constantly looking for fresh new content and content providers that will complement our world-class library and appeal to our customers around the world. Key to that is ongoing monitoring of content usage on our platform, of broader trends in the sector, and of influencers within this fast-moving field.
My background in health clubs and my passion for technology mean I have a strong insight into the needs of fitness operators, as well as the evolving demands of exercisers. This underpins a strong content agenda – one that's based on continual innovation and relevance.
Before we dive into the trending insights, what data points are your observations based on?
The following trends, observations and insights are based on a full-year of usage stats for the 2022 calendar year, collated from data across the entire Wexer ecosystem.
Because of course, the joy of digital technology is that everything can be measured: across our portfolio of market-leading mobile solutions and our in-club Virtual group exercise platform, we know exactly which classes have been streamed, where and when.
In-club, operators will often schedule specific virtual classes, but they can also auto-rotate similar classes for variety within a timetable slot or allocate periods of on-demand use should they wish. Through their MyWexer portal, they can then see – in real time – which classes are streaming, and this data is also collated over time to build up a picture of what members are choosing to take part in.
We can be even more precise in our mobile platforms, for the simple reason that the content streams to consumers' own devices. We – and the clubs – therefore know exactly what each user is choosing to do, at what time of day, for how long, on which day(s) of the week, in combination with which other sessions… It builds up an incredibly strong picture of individual behaviours and preferences, as well as providing an overview of interests and trends across the whole customer base.
This is invaluable both to operators – and indeed all those sharing our content with their customers – and to Wexer. Operators can adjust their studio schedules based on current, quantified needs and interests; can fine-tune their marketing and promotions to maximise interest; can spotlight particular class collections to make it even easier for their members to find what they want; and, if they're also producing their own content, can focus on producing more of whatever's proving most popular.
Meanwhile, Wexer continually monitors usage data from every customer across the globe, gaining invaluable insights into what's genuinely hot and where we need to take our content library next; already unparalleled in its scope, we're continually exploring new content partnerships and refreshing our library to ensure every possible user need is met. The fact that this data is real-time means we can respond quickly and proactively to stay ahead of the game.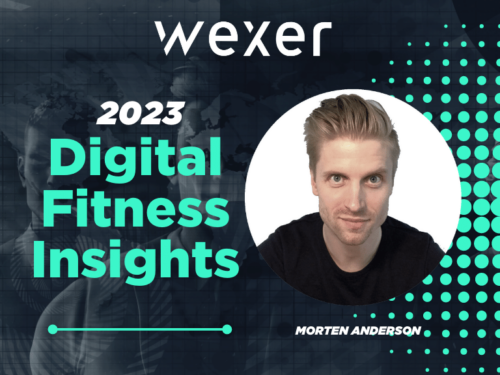 DOMINANT DIGITAL FITNESS INSIGHTS
We witnessed a number of interesting themes in digital content usage that I can discuss in more detail, but the top themes include:
Virtual Indoor Cycling Dominates – In the club environment, virtual indoor cycling leads the way.
Strength and Cardio Still Key – The bread-and-butter basics of strength and cardio are still key: abandon them in favour of shiny new trends at your peril!
Wellness Is Strong – Wellness is coming through strongly, with users finding new entry points and avenues into this field.
Shorter Virtual Content Is Preferred – Short is the sweet spot with virtual content in-club and on mobile platforms.
Specific Is Good – Specific content that focuses on a specific body part or training style is more likely to engage users.
Virtual Content Experimentation – Users are getting comfortable experimenting with a wider selection different fitness and wellness content.
Let's go in depth to the question and answers with Morten.
1. Q & A – Let's start with indoor cycling. What are you seeing and how is Wexer responding?
In-club, virtual indoor cycling is more popular than ever: in 2022, almost 52 per cent of our club-based plays were cycling. The next highest category was conditioning, accounting for almost 24 per cent of all in-club plays.
This isn't really surprising, because where multi-purpose studio spaces can be used for other activities when there's no class scheduled, cycling studios tend to be dedicated spaces filled with bikes. Operators understandably want to maximise the yield of these studios in off-peak times and virtual classes are the perfect solution.
We recently sub-divided our virtual indoor cycling classes into three categories: Studio, Road and 3D World. The traditional virtual instructor-led classes (Studio) remain popular – strong presenters will never go out of fashion – but we're seeing the two other categories emerge strongly.
I put this down to two key factors, the first of which is the importance of entertainment. After all, studio bikes don't go anywhere: it's good to have something to keep the mind stimulated when the legs are burning from pedalling.
Second, with cycling tech now mainstream, a lot of riders want to use data in their training to monitor their efforts, set targets and track their progress.
Power- and heart rate-based workouts are very popular, but I personally think it's when the tech element meets entertainment that it all really comes together. That's why Wexer has secured a range of workouts that are data-driven – via on-screen graphics – but where this data is evenly matched with a good dose of entertainment.
If you choose a Road workout, for example, you'll ride through footage of some of the most iconic roads and scenic mountain passes in the world. Alternatively, if you prefer to emerge yourself in an animated world – from riding underwater to cycling among dinosaurs – you'll find it all there on the Wexer platform!
2. Q & A – Strength and Cardio content is still key. What should be the balance between new trends and fitness staples?
New trends are cool and Wexer is always on the lookout for them, because we love bringing new titles to our users and finding new ways to get and keep people engaged.
But when it comes to training, the basics will never disappear. As our 2022 data shows – and, for that matter, all the data from previous years – good old strength and cardio workouts are still king. Once again, the two most popular categories on the Wexer Web Player last year were Strength (just over 19.5 per cent) and Cardio (almost 18 per cent).
This reinforces the content strategy I've embedded at Wexer, where we understand that the basics should always form the backbone of the platform – the 'bread and butter', if you like. These are the workouts that appeal to all user types. These are the classes proven to bring results for users as they work to achieve their fitness goals.
So in 2023, while we will supercharge our wellness library and respond to new and emerging trends, we will also continue to bring in a lot of new cardio and conditioning workouts. We will ensure our users never run out of options or inspiration for these basic strength and cardio workouts that are so essential to improved fitness levels.
3. Q & A – Let's talk about wellness, as this is a very hot trend these days.
Absolutely: wellness is arguably the hot trend right now – we published a really interesting blog on this topic recently, which you can read Fitness and Wellness Trends here.
We've actually been developing this content category for a number of years and in 2022 pressed down the accelerator by bringing in a wealth of new wellness-focused content, from a new Breathe channel to a Stretch & Recover category, meditation to Sleep Stories by Sweat Factor, an ever-expanding array of mind-body classes to snackable wellness breaks in the shape of Office Fit by Sweat Factor.
I believe this is the category that will take the greatest leap forward in 2023, both on the Wexer platform and across the rest of the market, as consumers continue to broaden their view of what health and fitness actually means.
Stretch & Recover is already the third most popular category on our mobile platform: a 16.5 per cent share of all plays in 2022 saw it beaten only by the workout staples of strength and cardio. Meanwhile yoga, previously most people's entry point into wellness, accounted for just over 12 per cent of all plays. People's willingness to embrace new facets of wellness is growing fast.
Stretch & Recover is often still aimed at physical wellbeing, but as the genres of wellness content continue to diversify – drawing in all sorts of new approaches to both physical and mental wellbeing and development – consumers will find new entry points into this growing and important area of self-care. This is my prediction for virtual fitness in 2023.
And so at Wexer we have a clear goal of building the world's best wellness content library: we're committed to adding 750 titles across the wellbeing genres in 2023. Pair that with our existing fitness library and you really will have fingertip access to everything you want.
4. Q & A – When you say 'short is sweet', what do you mean?
I predict that virtual class durations will get increasingly short, especially on mobile platforms where people are doing their own workouts away from their club.
The most popular workout duration in 2022, both in-club and on our mobile platforms, was 20–30 minutes, but on our mobile platforms 0- to 10-minute and 10- to 20-minute workouts were also extremely popular. In fact, more than 82 per cent of all workouts played through our Web Player in 2022 were 30 minutes or less.
I predict that virtual workouts of the future will be around 20 minutes long: long enough to build up a sweat and get the muscles working, long enough to feel an effect, not so long that you struggle to fit it into your day. It's the perfect length of time for a stretch or mind-booster throughout the day.
In addition, not many people have the luxury of a dedicated gym space at home: workouts are often done in the living room, spare room or garage. In other words, at-home workouts are done where life also happens, which can get complicated if you're taking up that space for an hour. Twenty minutes is do-able most of the time; if you do have more time, you can always do another session.
5. Q & A – Why is specific good – what do you mean by this?
You can include pretty much anything in a virtual workout, and this can sometimes tempt producers to try and do it all. After all, it makes sense to cover multiple genres in one workout, doesn't it? Start with cardio, do some strength, stretch and end of with a bit of meditation?
Actually, no: when options are limitless, limits are key. Our data shows that users like workouts that are specific, with titles that are to-the-point. They're more likely to engage with content that focuses on a specific body part or a dedicated training style: HIIT, for example.
And that makes sense to me. We live in a highly digital world where we can tailor almost everything to our liking, and consumers now expect this across the board – including in their exercise, movement and wellbeing experiences, which they want to be able to tailor around their precise personal preferences.
Specific content is the key to delivering this: we're seeing Wexer users stack multiple specific, targeted pieces of content, putting them together to create an overall workout programme that suits their exact goals and needs on any given day.
I believe this will continue in 2023 and beyond, so Wexer will continue to build its library of short, specific workouts.
6. Q & A – And what about the notion of users experimenting with content?
As users become more and more familiar with virtual, and people are more open to trying new types of class – driven not least by a growing interest in the broad field of wellness – we're seeing Wexer users increasingly ready to experiment.
How can we tell? Because typically, the actual stream time is shorter than the official duration of the selected workout.

This is partly because users often stack several workouts, mixing and matching specific targeted classes as I just mentioned. They might therefore skip past a warm-up or end the workout before the cool-down.
But it's also because users sometimes cut off a workout to do something else. A bad thing, you might think, but I disagree. It means users are trying a much wider selection of our workouts. Virtual training has finally arrived at a place where users are fully comfortable with experimenting – and with ending a workout and finding something else if they didn't get what they expected first time around.
Content providers must therefore stay on top of their game to keep the attention of the user. Intros must be to-the-point and workouts should start quickly: no messing about or you might lose the audience.
2023 will see more virtual users gaining confidence and experimenting with lots of different training types and genres. I predict it will be more important than ever to have a broad and deep library of workouts to stay relevant.
Get to know your content… and what your customers really want. If you're already a Wexer customer, reach out to your account manager to discover the content people are really engaging with on your platform. If you aren't working with us yet, message us here and we'll arrange a call to explore ways to take your content strategy to the next level!